Tech Talent For #Gaming
Use the GTH talent platform to find and hire Tech professionals with the right technical and soft skills to support your game development.
Are You Looking For Any Of These Tech Professionals?
If you've been trying hard already and don't want to waste time anymore, we can help you find the right candidates in the US, UK, and Europe to work on-site or remotely.
Game Developer
Find Game Developers who will be responsible for designing and creating your video games. They will work on various aspects of game development including programming, graphic design, and sound design.
# of ppl in Europe: 3,700+ USA: 3,300+
3D Artist
Your 3D Artist will be responsible for creating three-dimensional models, animations, and visual effects to be used in games. They will work with Game Developers to bring the game's visual elements to life.
# of ppl in Europe: 5,600+ USA: 4,300+
Game Designer
Find the right Game Designers who will plan what your new game will be like. They will create the rules and structure of your game, define the gameplay mechanics, and work on narrative and character development.
# of ppl in Europe: 2,900+ USA: 3,400+
Game Tester
Game Testers, also known as Quality Assurance Testers, will play a crucial role in your game development. They are responsible for testing games extensively to find and document any bugs or issues before your game is released
# of ppl in Europe: 2,600+ USA: 1,900+
Sound Designer
Use our talent platform to find a Sound Designer who will be responsible for creating your game's audio content, sound effects, voice acting, and music. They will work closely with the rest of the development team to ensure the audio matches the gameplay and visual elements.
# of ppl in Europe: 4,100+ USA: 3,600+
UX/UI Designer
User Experience (UX) and User Interface (UI) Designers in Gaming are responsible for creating a seamless, intuitive, and engaging user experience. This can involve designing your game's menus, interfaces, and interactive components.
# of ppl in Europe: 11,000+ USA: 12,000+
AI Engineer
Find an AI Engineer who will work on creating intelligent behaviors and procedural content for your game. This can range from enemy character behavior to complex strategies in multiplayer games, to the procedural generation of environments.
# of ppl in Europe: 900+ USA: 3,100+
Backend Developer
Find software engineers who use Java, PHP, JavaScript, or TypeScript to build your game's backend systems. They will create APIs that will support thousands of concurrent players and will work with cloud databases to store and secure gamers' data..
# of ppl in Europe: 21,000+ USA: 9,400+
BigData Engineer
Find and hire Data Engineers who will find creative solutions to challenging problems. The specialist can be part of your machine learning or Business Intelligence team and will work on delivering optimized data pipelines and automated reports for your management team.
# of ppl in Europe: 670+ USA: 310+
Full-Stack Engineer
Find senior full-stack engineers who will support your Product and Delivery teams in building highly scalable solutions in line with the performance, security & regulatory requirements while providing a solid bridge for your engineering teams.
# of ppl in Europe: 43,000+ USA: 57,000+
Cloud Engineer
Find Cloud Infrastructure Engineers who have an intimate understanding of the deployment and configuration of infrastructures in the Cloud: AWS, GCP, or Azure. They will help you provision your Infrastructure and support game development.
# of ppl in Europe: 7,300+ USA: 13,000+
Product Owner
Find the right Scrum Product Owner to drive your Agile development, provide vision and direction to the team throughout the game development process, and create requirements in the form of epics and stories based on your game users' feedback.
# of ppl in Europe: 14,000+ USA: 29,000+
Do you need to hire any of them and feel like yesterday was too late?
Feature Your Most Important Vacancy In The
Dream Job Show
Thousands of job seekers watch the DJS and learn about exciting job opportunities. Simply choose the vacancy you'd like to promote and let us do the hard work.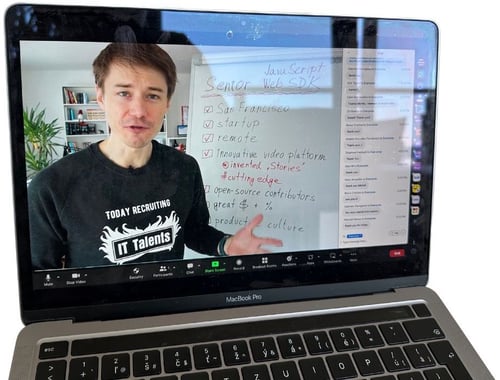 Tap On Our Expertise To Find Great Candidates
We screened 10,000+ technical candidates for high-tech startups, scale-ups, and international corporations and noticed what works—and what doesn't!
Hence, we can tell you how to avoid common mistakes and accelerate interviews.
Book a Free consulting call with one of our recruitment experts to discuss:
Your Budget vs. Expectations Match

Let us analyze your expectations (required skills, seniority, type of work, location, budget) and provide you with feedback on whether they are in line with what the highly-demanded professionals expect.

Your Offer Positioning

Get feedback on who your vacancy could be the "Drem Job" for and whether the offer is compelling for the target candidates.

Your Target Location

Learn what tech hubs, cities, and countries would be a better fit for your remote workers given your budget constraints.

Your Hiring Process

Learn how other high-tech companies improved their interview processes to get the best candidates on board before they find a job elsewhere.
Click the button below to book a Free consulting call:
Great Companies Use Our Talent Sourcing Platform
High-tech startups, scale-ups, and international corporations use the GTH platform to find and hire qualified IT professionals.